UP NEXT AT PWR
FEATURE
Women's wrestling is looking to pick up here in Philippine Wrestling Revolution and at Wrevolution X, we will be seeing the first ever women's wrestling match in PWR between Crystal and Robynn. Ever since Crystal's rousing debut at PWR Vendetta in 2016, there has been a big clamor for women's wrestling here in the Philippines but she would be on her lonesome for a while. It wasn't until the punk rock maiden Robynn making her debut later that the thoughts of the first ever women's wrestling match in PWR started invading the Revo-Nation's mind. Now, let's see each woman's journey going up to the biggest show of they year in Philippine Wrestling.
Crystal's journey this past year was tumultuous to say the least but that is something the fiery female competitor has been getting used to in her career. She's constantly matched up against male competitors that outsize and outpower her but what she lacks in size or power she never lacks in heart. After failing to claim the PHX championship at the PHX gauntlet, Crystal would continue to carve out her own path in PWR. After suffering a beatdown from the then-existing Royal Flush, Crystal would be given an opportunity to win the PHX title against Main Maxx. Although she would lose in that outing, she would gain the respect of the Revo-Nation and Main Maxx himself for going all out and showing her heart. After the match, Peter Versoza would come out to give Crystal another beatdown until Main Maxx would step in and this would set up a match between Crystal and Peter Versoza. In their second encounter and with a little help from Main Maxx, Crystal would go on to finish 2016 by capturing her first win against Peter Versoza no less. Crystal's 2017 would continue to roll as she defeated James "IDOL" Martinez at Bagong Yugto and would head into Path of Gold with a lot of momentum and it would be there where things got interesting. During the Path of Gold match, Crystal would share the ring and clear out the competition with her fellow female wrestler, Robynn. A lapse in focus on Crystal's end would lead to Robynn eliminating her from the Path of Gold match which in turn sets up their upcoming match.
Robynn's journey in PWR has been very different in comparison to Crystal's. She debuted hidden in a pink unicorn hoodie which had the Revo-Nation dumbfounded at first. When she pulled the hood back and revealed her rainbow-colored hair, the entire Revo-Nation was whipped in a frenzy. Although her debut ended in a loss to Mike Madrigal, Robynn would win the hearts of the entire audience that night. Robynn would then step away from singles competition and join forces with Martivo to form the fittingly-named "Punk Dolls" and the duo would continue to entertain the Revo-Nation. On their first outing as a tag team, the Punk Dolls would go on to defeat the talented YOLO twins sending a message to every other team in the PWR locker room. However, the duo could not continue their winning ways against The Deadly Sinns team of Mike Madrigal and Vlad Sinnsyk. After that loss, however, Robynn would refocus and entered into the Path of Gold match to try and become the first woman to win it. Although she would not end up winning it, she did manage to eliminate her fellow female competitor, Crystal, to the "oohs" of the Revo-Nation. Although she tried once again for tag team supremacy with the Punk Dolls, they would fall short against the YOLO Twins in the PWR Tag Team Tournament. After that match, Crystal would come out to formally challenge Robynn to the audible affirmation of the crowd in attendance.
It will most definitely be an interesting matchup come Wrevolution X. Crystal's career thus far has been mired in singles matches against bigger and stronger opponents and while Robynn has been no slouch either, a majority of her matches have come in tag teams. While she might not have the cardio and experience Crystal has, Robynn has a daredevil attitude unlike any other which makes her a very dangerous opponent for Crystal. Which one of these women will make history and grab the win in the first ever PWR Women's Match at Wrevolution X?
---
In last year's Wrevolution X, Chris Panzer and John Sebastian faced each other in singles competition with very high stakes, namely the jobs of KC Montero and Mr. Sy on the line. It was a hard-hitting and high octane affair that would see the Wrestling Lord and Saviour come out on top defeating the leader of the Panzer Army and putting Mr. Sy out of a job. In this year's Wrevolution X, we will see Panzer and Sebastian go head to head again with even higher stakes on the line as this meeting will be for the richest prize in Philippine Wrestling Revolution – the PWR Championship. Let's take a look at both men's journey up to this point.
John Sebastian's journey after last year's Wrevolution X would be one of cunning, triumph, and dominance. After knocking off Panzer and making Mr. Sy jobless, Sebastian would be placed in a #1 contenders match for the PWR title and would have to go up against both Chris Panzer and The Apocalypse for that right. John Sebastian would use his quick wit to overcome both Panzer and The Apocalypse and he would later stake his claim on the PWR championship by attacking and laying out the PWR champ at the time, Jake De Leon. The stage was set for PWR Renaissance and John Sebastian would be getting his first ever opportunity at PWR gold and it would be up against a familiar foe in Jake De Leon. For the majority of their careers, JDL and John Sebastian would be at odds against one another and Sebastian thought nothing would be sweeter than taking the title away from the man who gave him his first career loss but at Renaissance, it would not be the case. Ever the opportunist, John Sebastian would not let this opportunity slip away and he reinstated Mr. Sy for another shot at the gold which he would finally claim from the Senyorito in a Bacolod Bullrope Match. In 2017, John Sebastian would continue to assert his dominance by knocking off Jake De Leon, The Apocalypse, and Main Maxx's attempts at claiming the gold while triumphantly asserting his dominance as the best Filipino Wrestler ever. If one thing's for sure, the Wrestling Lord and Savior will have a ton of momentum going into Wrevolution X facing a hot and fiery Chris Panzer.
If John Sebastian's journey was one of triumph, Chris Panzer's journey was full of blood, sweat, tears, and hardship. After losing to John Sebastian and costing Mr. Sy his job, Chris Panzer would enter into a slump of epic proportions. He would continuously come up short in a series of matches for both contenderships and for titles eventually leading him to be labeled a 'choker' by his peers and the Revo-Nation. The exclamation point of the leader of the Panzer Army's would come in an All Out War match against The Apocalypse where the monster would bust open Chris Panzer's back and leave not only physical scars, but mental and emotional ones as well. Panzer would be left thinking what was next for him and if he could ever break free from this hole he found himself in. Like the warrior that he is, however, Chris Panzer would refocus and strengthen his resolve beating both Chino Guinto and Ken Warren in succeeding events and this gave him the momentum to go into the Path of Gold match and win the coveted trophy. Chris Panzer would choose to go after the PWR Championship but he would have to face one final test in the form of a former Path of Gold Winner and PWR Champion, Jake De Leon. In a back and forth contest where both men would leave it all in the ring, Chris Panzer would triumph over JDL and would clear the final obstacle to go into his PWR Championship match. As fate would allow it, it's almost beautifully poetic that the man he will face for the PWR championship was the man that beat him at Wrevolution X the previous year, John Sebastian.
Two completely different paths taken with only one destination. Will John Sebastian continue his reign of dominance as the Wrestling Lord and Savior or will Chris Panzer finally be able to win the big one and show the entire Revo-Nation that he is the leader of the Panzer Army for a reason? Who will come out of Wrevolution X as the PWR Champion?
---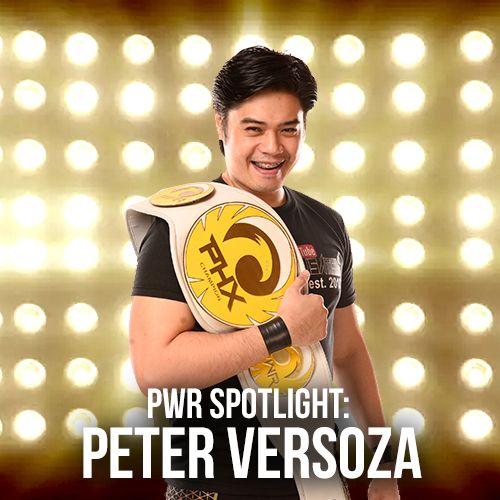 At PWR Live: Bagong Yugto, we saw the rise of a new PHX Champion in Peter Versoza after he defeated his former Royal Flush running mate, Main Maxx. Just last month at PWR Path of Gold, we saw P to the V defend his title in amazing fashion and defeat Main Maxx twice in a row – a feat not many wrestlers can boast. After Path of Gold, we were left wondering what would be next for the Bulacan Babe Magnet and PWR General Manager Mr. Sy had an answer in the form of The Apocalypse. Clearly irate over the decision, we decided to catch up with Peter Versoza and have a sit-down interview with him to get his thoughts on the upcoming match and to also let the Revo-Nation know more about our current PHX Champion.
PWRCentral: Congratulations on defeating the then longest-reigning Main Maxx for the PHX championship. How does it feel being PHX champion?
Peter Versoza: I feel like saying "F*** you everyone in the PWR roster, now you can't take this away from me!" and I also feel nothing at the same time. I don't even think beating the longest reigning PHX champion is an accomplishment because if he had faced me for his first title defense, "longest reigning" wouldn't have happened. It's long overdue and finally, it's with me now where it should belong.
PWRCentral: You're clearly feeling very confident about being PHX champ. Let's take a step back for a bit so that our readers can know more about you. What motivated Peter Versoza to join PWR?
Peter Versoza: I joined PWR at first because I just wanted to win at wrestling. I'm a winner. For some reason, however, when I first started out (ehem…SANDATA), I couldn't get a win. So after getting rid of dead weight, I decided to make a separate path for myself and that's when the W's came in. Honestly, after those wins, it became a drug. My addiction got stronger and eventually I wanted more. Then I realized I wanted the PHX title for myself and here we are today
PWRCentral: You have a very athletic and "devil may care" arsenal of moves. Can you tell us about your athletic or martial arts background if ever?
Peter Versoza: I just don't like Technical Wrestling, that's why. It's so boring that I watch it just so I can sleep at night. I used to practice Taekwondo before as well and I'm just really naturally athletic so that's probably the reason why you think I'm so awesome.
PWRCentral: You've also had some very rocky relationships in the past with SANDATA and Main Maxx. What drives you to the point of cutting these relationships?
Peter Versoza: I wouldn't say they were rocky. I'm just an "If I can't benefit from you, might as well leave you" kind of guy. SANDATA and Main Maxx just so happened to be people I couldn't benefit from any longer.
PWRCentral: You'll be facing The Apocalypse for the PHX Championship at PWR Live: MAINIT. What is your game plan going into that match?
Peter Versoza: Apocalypse and Mr. Sy? F*** both of them! I don't know what he did to deserve a shot at MY Title and now, Mr. Sy even booked a contendership match just to add another problem on top of my current one! But worry not, John Sebastian and I are already devising a 100% fool-proof gameplan and The Apocalypse will not beat me.
PWRCentral: You've recently had some very strong words to say about PWR General Manager Mr. Sy. Would you like to send him a message?
Peter Versoza: Yeah! Because obviously, he doesn't want me to have this PHX Title!
If the PHX championship has a contendership match, why doesn't the PWR title have one? Right? My message for him? Hey, Mr. Sy, if you're really keen on me not keeping the title, after I'm done with The Apocalypse, how about Peter Versoza vs Mr. Sy for my PHX Title next event, huh? What do you say?
Well, we can definitely say things are getting heated around Peter Versoza and the PHX title. Catch Peter Versoza taking on The Apocalypse for the PHX Championship at PWR Live: MAINIT on March 19, 2PM, at the Unilab Bayanihan Center. For ticket details to PWR Live: MAINIT, message PWR on Facebook or send an email to pwr.tickets@gmail.com
---